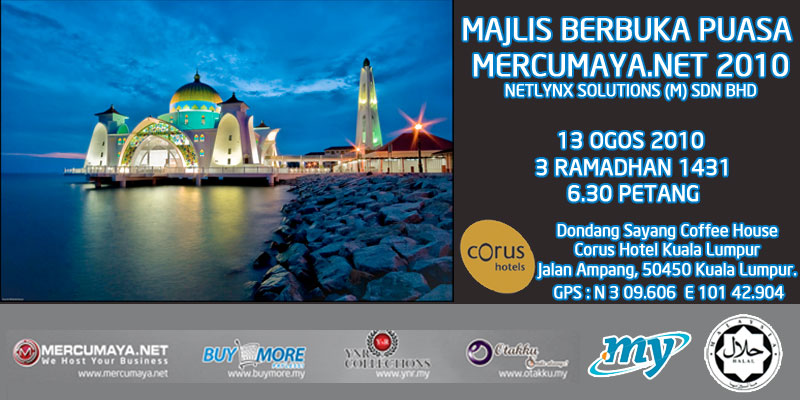 Kepada pelanggan MERCUMAYA.NET ( Muslimin & Muslimat ),
Bersempenakan Ramadhan Al-Mubarak ini,
Kami warga kerja MERCUMAYA.NET (NETLYNX Solutions (M) Sdn Bhd). ingin menjemput Muslimin & Muslimat untuk menghadiri majlis berbuka puasa anjuran MERCUMAYA.NET.
Butiran majlis adalah seperti berikut :
Tarikh : 13 Ogos 2010 bersamaan 3 Ramadhan 1431H. 6:30 Petang.
Lokasi : DONDANG SAYANG COFFEE HOUSE, CORUS HOTEL KUALA LUMPUR, Jalan Ampang, 50450 Kuala Lumpur, Malaysia.
GPS : N 3 09.606 E 101 42.904
Perhubungan : (Encik) Mizan No. Telefon : +6019-2046336
Jemputan terhad (100 orang) kepada pelanggan sahaja.
Anda hanya perlu;
1) Membuat pendaftaran baru / Memperbaharui domain .my / .com.my
@
2) Membuat pendaftaran baru / Memperbaharui hosting. (Selepas 1 Ogos 2010)
Sesudah itu, diharapkan Muslimin / Muslimat dapat mengisi borang kehadiran berikut;
BORANG http://bit.ly/cqYgAI
Sahkan kehadiran Muslimin / Muslimat sebelum 10 Ogos 2010 (06:00 Petang)
*Bagi memastikan kehadiran penuh, pelanggan diwajibkan untuk membayar deposit RM50.00 bagi setiap individu dan deposit ini akan dikembalikan semula kepada pelanggan semasa pendaftaran majlis berbuka kelak.
Diharapkan kadatangan Muslimin/Muslimat dapat memeriahkan lagi majlis berbuka puasa ini dan merapatkan ukhwah sesama kita.
Terima Kasih.
'Berbuka puasa'on the specialities of internationally
acclaimed Chef Ismail who is well known for his
Malay heritage cuisine.
In addition to that, feast on more than 90 authentic
'Kampung' favourites from various States. Some must
try appetizing dishes from the buffet and live cooking
stalls include Ikan Bakar Pak Raja, Ayam Kasturi, Rendang
Kambing Serai and Keledek Masak Lemak Pucuk Manis,
not forgetting a whole Barbecued Lamb.